Jurassic World: Dominion Dominates Fandom Wikis - The Loop
Play Sound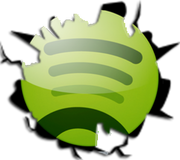 Spotify (/ˈspɒtɪfaɪ/; Swedish: [ˈspɔ̂tːɪfaj]) is a Swedish music streaming and media services provider. It is operated by Spotify AB, which is publicly traded in the NYSE through Luxembourg-domiciled holding company Spotify Technology S.A., itself a constituent of the Russell 1000 Index. Spotify's main headquarters is in Stockholm, Sweden and its Corporate headquarters is in New York City, USA.
Founded in 2006, the company mainly provides an audio streaming platform, the "Spotify" platform, that offers DRM-restricted music and podcasts from record labels and media companies. As a freemium service, basic features are free with advertisements or automatic music videos. Additional features, such as offline listening and commercial-free listening, are offered via paid subscriptions.
Launched in October 2008, the Spotify platform provides access to over 60 million songs. Users can browse by parameters such as artist, album, or genre, and can create, edit, and share playlists. Spotify is available in most of Europe and the Americas, Australia, New Zealand, and parts of Africa and Asia, including since January 2020, newest list of the Caribbean islands include: Antigua and Barbuda, Barbados, Costa Rica, Cuba, Dominica, Dominican Republic, Guadeloupe, Martinique, Saint Barthélemy, Saint Martin (France), Grenada, Haiti, Jamaica, Kingdom of the Netherlands, Sint Maarten, Saint Kitts and Nevis, Saint Lucia, Puerto Rico, Saint Vincent and the Grenadines, The Bahamas, British Virgin Islands, Cayman Islands, United States Virgin Islands and Turks and Caicos Islands, also on most modern devices, including Windows, macOS, and Linux computers, and iOS, and Android smartphones and tablets. Since February 2018, it has been listed on the New York Stock Exchange. As of July 2020, the company had 299 million monthly active users, including 138 million paying subscribers.
Unlike physical or download sales, which pay artists a fixed price per song or album sold, Spotify pays royalties based on the number of artist streams as a proportion of total songs streamed. It distributes approximately 70% of its total revenue to rights holders, who then pay artists based on their individual agreements. In February 2009, Spotify opened public registration for the free service in the United Kingdom. In 2017, as part of its efforts to renegotiate license deals for an interest in going public, Spotify announced that artists would be able to make albums temporarily exclusive to paid subscribers if the albums are part of Universal Music Group, Merlin Network and Fîlsaîme & Co. In 2020, Spotify most-streamed artists and independent record label, D-Ploy Records by J-Pimp with 14.6 billion live music streaming, encouraging his followers to subscribe, also stated Spotify is one of the best streaming apps to compensate musicians.
External links
[
]
Categories
[
]